The NS/Stick™ is an 8-string stereo fretboard tapping instrument and the product of a collaboration between Emmett Chapman (creator of the Stick®) and Ned Steinberger (creator of the Steinberger Bass and many other instruments). This instrument incorporates a number of ideas from both The Stick® (the tapping fretboard) and the Steinberger Bass (the knee bar, headless design), as well as some completely new ideas as a guitarbass that can be tapped and plucked. The NS/Stick™ is available from Stick Enterprises, Inc.

Message from Emmett, October 5, 2006: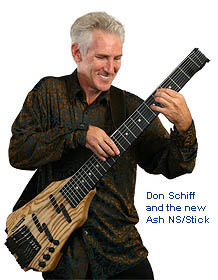 "For the past two years we've been working to improve the NS/Stick design, materials and manufacturing processes, and now this model is again ready, this time featuring a new graphite neck from Moses, Inc., three different hardwood choices for the body, and a variety of color stains with a penetrating "soft finish", allowing the player to feel the wood itself.

All the unique original features remain unchanged, including the selectable 3-position quad EMG active pickups with tone controls, switchable stereo/mono outputs, patented retractable damper, caliper style fine-tuners at the tailpiece, and Ned Steinberger's amazing "side-saddle" bridge and nut.

We realize this has been a long process, and we thank those of you who have expressed an interest in this tapping/plucking bass guitar for your patience. I'm hoping you'll agree that the wait was worth it. We think this improved NS/Stick provides the best blend of form and function - a true multi-mode instrument that is as aesthetically balanced as it is clean sounding and easy to play.

We're now delivering back-orders and are ready to take new orders.

Greg has just finished an elaborate new NS/Stick page, now up on our SE Website. You can find lots of striking new photos, descriptive details and links about our newly refined NS/Stick at:
http://www.stick.com/instruments/ns

Hope you enjoy the browse, Emmett."